Pebble Plain Ecological Reserve ~ Moonridge

Big Bear Valley Rare Habitats Internship Presentation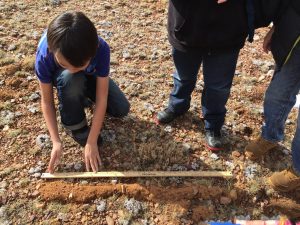 The Education Trust is providing leadership in the establishment of a Pebble Plain Ecological Reserve in Moonridge.  They continue to protect this reserve through collaboration with the members of the Pebble Plain Committee.  This collaboration allows educating about the unique environmental occurrence called the Pebble Plain Ecosystem.  This geologic formation only occurs in Big Bear and Holcomb Valley and nowhere else in the world.  As a result, the flora and fauna growing on the Pebble Plain is also unique to these areas.  Interested groups have joined together to insure that these plants and insects will be forever protected.  The future vision for the reserve includes a boardwalk over the plains, and interpretative trails for the enjoyment of Big Bear Valley residents and visitors.  An environmental protection master plan and a restoration plan are currently under development.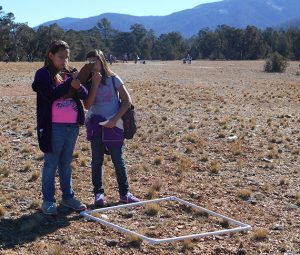 Using the unique ecological resources of the Big Bear Valley, the Ed Trust brings educational opportunities to all members of the Big Bear Valley and to visitors through the development of a place-based environmental curriculum, a Mobile Science Laboratory, and field activities to inspire stewardship of these unique resources.
The Big Bear Valley Education Trust is providing the leadership for continuing development of place based educational opportunities such as:
Curriculum Development is focused on Big Bear Valley including environmental, ethical and societal implications. In-depth units are being developed for Pebble Plain and Metcalf Meadow environments.
Science Excursions providing place based Educational Experiences specific to Big Bear Valley include the lake, the forest, the pebble plains and heritage locations of importance to the native cultures. See more information on Bear Tech on this site.
A Mobile Science Lab is being outfitted to meet the needs of participants at all the above locations and more such as local events to promote ecological responsibility and enrichment; and education on these resources.
Ecosystem Trails – from the lake to the Mountain top there are 17 unique eco-systems at the Metcalf Meadows and wetlands which will hopefully be developed for enjoyment of locals and visitors alike in the near future.
Big Bear Valley Education Trust provides children, community members and visitors the opportunity to engage in the study and stewardship of endemic plant and insect species found only in Big Bear Valley and Holcomb Valley.
If you believe in our mission and goals, please sign up to volunteer or press the "Donate Button" at the top of the page.
Pebble Plain Ecological Reserve links and resources:
Pebble Plain Committee

https://www.facebook.com/San-Bernardino-Mountains-Land-Trust